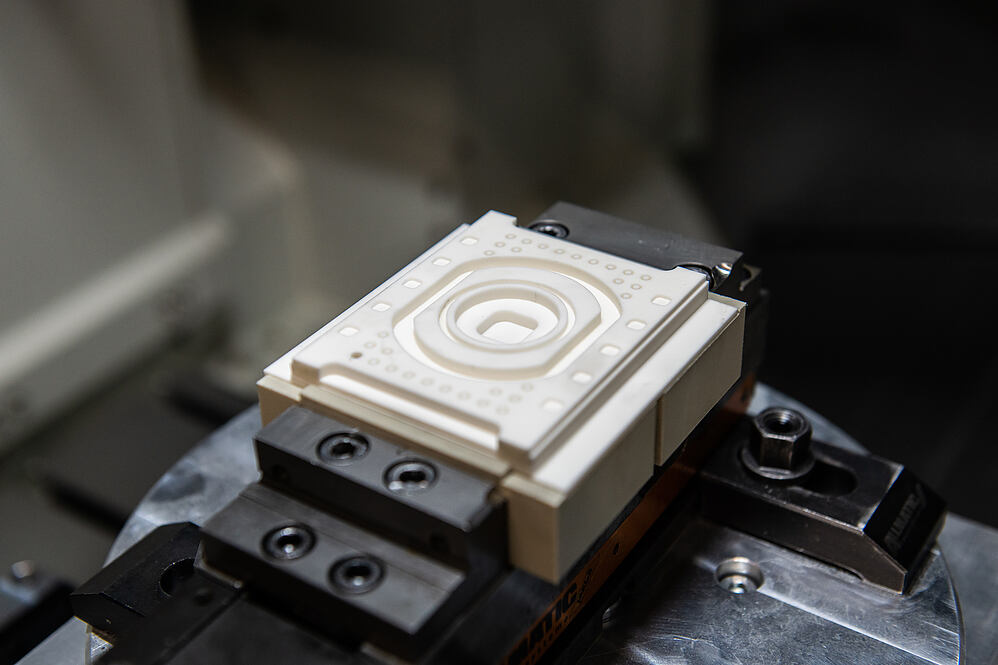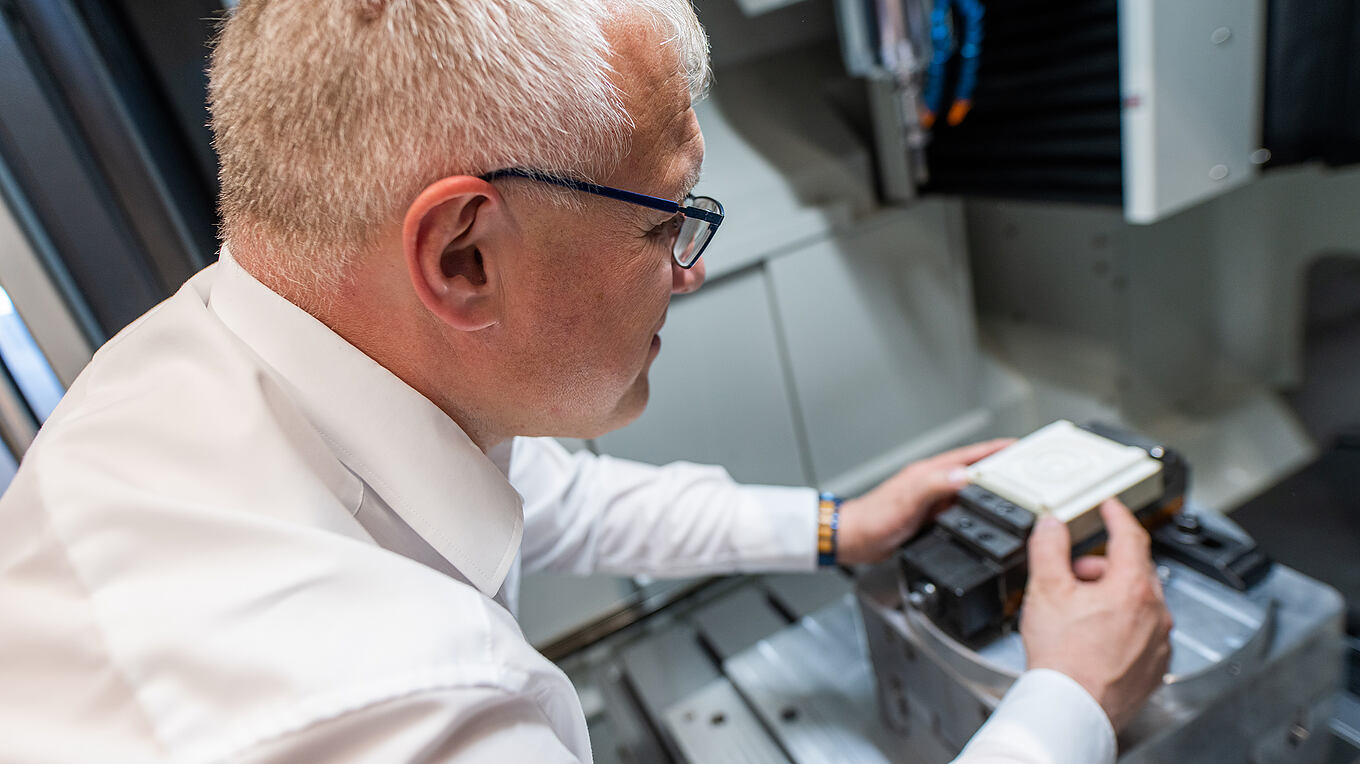 Ten machines with a single objective
Over a period extending through more than half a year, and month for month, TAKUMI delivered bridge-type machining centers to an address in Eibiswald, just south of Graz, Austria: for a total of two "H7" models and no less than eight "H10" Series machines. This investment by Fuchshofer Präzisionstechnik was their response to some very specific customer requirements, of the kind that so often lend impetus to this company's actions and acquisitions. Owner Hannes Fuchshofer: "These ten TAKUMIs offer us the ideal means for satisfying these demands."
The assignment in question is to produce equipment, molds and dies for manufacturing machine components destined for use in the semiconductor industry. "This means that we are machining hard and extremely brittle composite materials such as quartz glass, along with fiber-based and other special materials. It's a challenging mix, and there are additional variations from one part to the next," reports Fuchshofer. "Nevertheless, precision is essential, and we also have to keep the thermal stresses as low as possible." With part dimensions of 500 x 500 mm, the tolerances that have to be maintained for elements such as mounting surfaces and assembly clearances are measured in hundredths of a millimeter. In view of the fact that the company's customer base stems primarily from the semiconductor, automotive and aerospace sectors, this is a thoroughly typical assignment for Fuchshofer. These specialists hailing from Austria's Steiermark region have been machining an extensive array of materials for almost thirty years. "We always strive to transfer this expertise to machines representing a variety of design configurations," emphasizes the company owner. "That's what made the TAKUMIs so attractive for us."
Never stand still
The focus at Fuchshofer Präzisionstechnik is fixed on milling, lathe-turning and machining precision components. At the same time, the enterprise's offerings also embrace development and construction of special-purpose machines, as well as construction of complete component assemblies. 2005 marked the arrival of ultrasonic technology in Eibiswald, allowing the processing spectrum to expand to include sensitive materials such as quartz glass and ceramics. Then 2015 witnessed the advent of additive manufacture, which joined ultrasonic machining, CNC processing and machine-tool manufacture to form the fourth pillar of this precision manufacturer's activities.
The company's debut consisted of Fuchshofer, then in his mid-twenties, running what he likes to call a "one man show": quite literally a garage-based enterprise – a tractor and automotive garage that he took over from his father. What happened next was a genuine success story: an expanding circle of customers, new buildings and annexes added on a regular basis, and strategic extension embracing manufacturing technology accompanied by steady acquisition of additional employees. "The consistent cornerstone of my approach was flexible production, and it was all based on high levels of technical competence from the employees," underscores the business owner. His team now counts more than one hundred associates. Also available in Eibiswald are apprenticeships leading to certification in mechatronics and machining. Not the least of the achievements stems from the CoViD period, when the "Fuchshofer Academy" was established with a program of promoting more intensive training and advanced instruction. "Never stand still, always be on the lookout for new experiences and expertise," is the core principle that inspires this pacesetter. "That is how we evolved into what we are now: with impressive technical resources, highly flexible, and in a very good strategic position."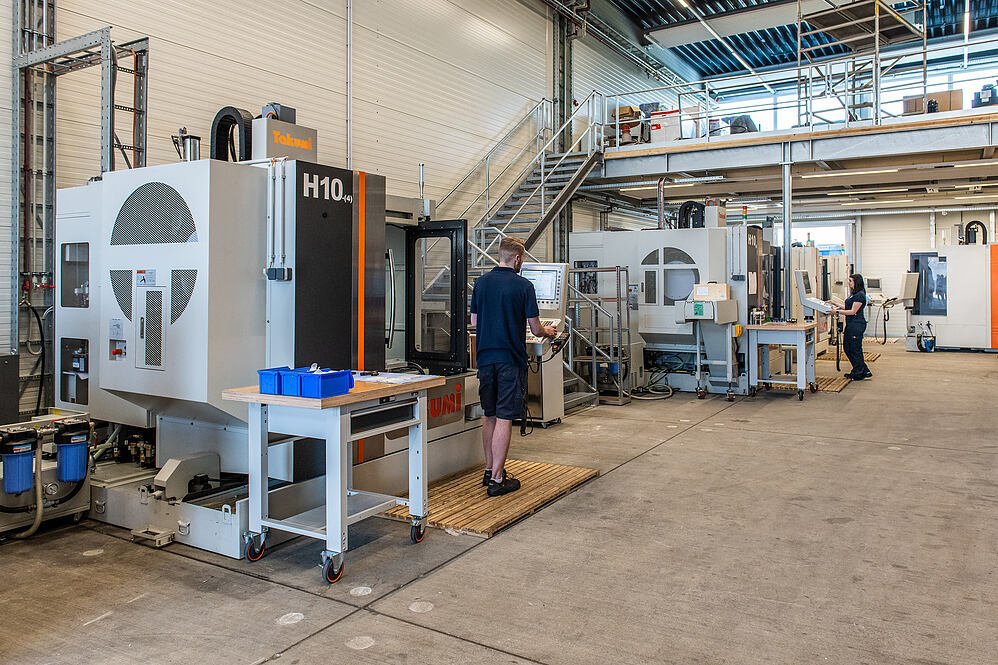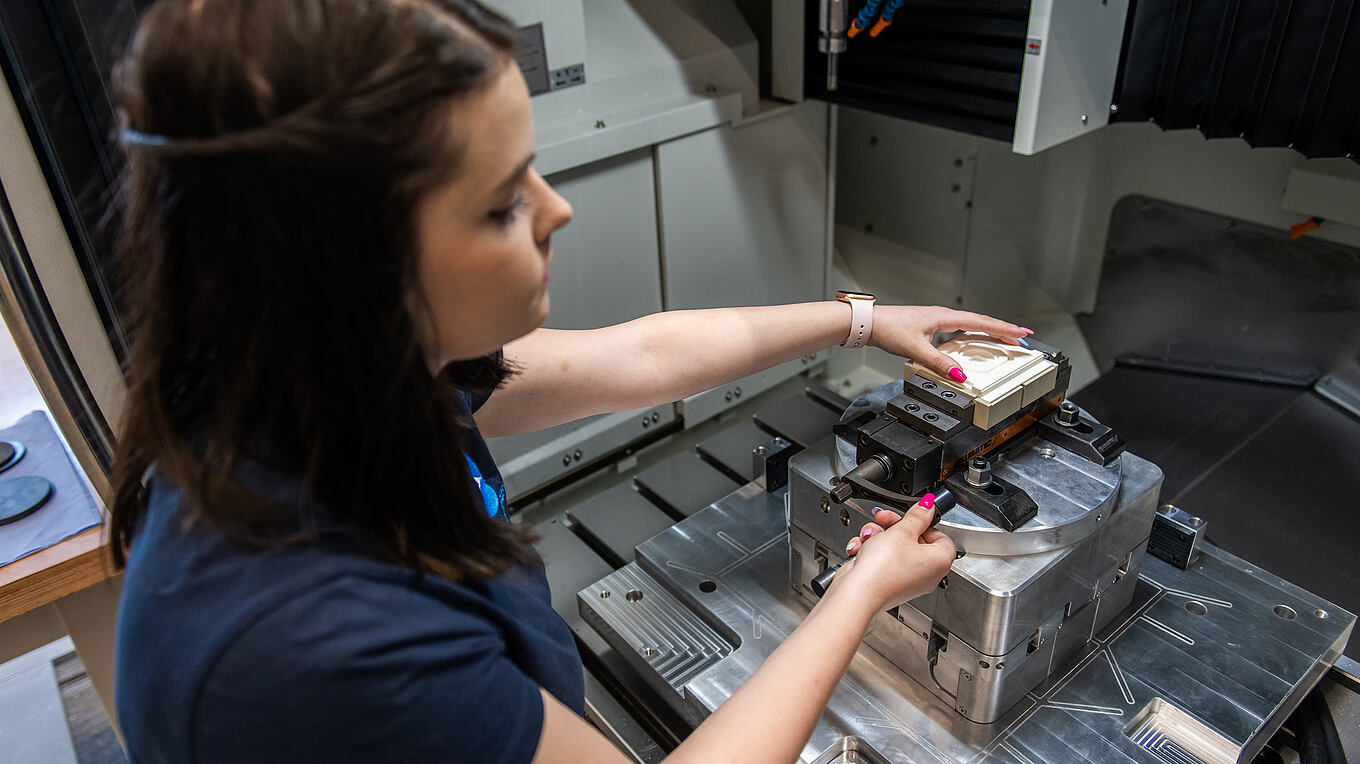 Ten machines with a single objective
"I liked that"
We already mentioned that with Fuchshofer, investments are usually a response to specific customer requirements, and more proof was provided last June. "That was when I had an extended conversation with one of our major customers in the semi-conductor sector," reports Hannes Fuchshofer.
"This led to a huge group of orders, starting with initial trials in August." At that time they were still using another machining center with a Heidenhain control system. Then, at a trade fair in October, Fuchshofer's attention was drawn to a TAKUMI. "I liked that: an overall package featuring highquality construction, the right equipment, the Heidenhain control system, and the price. It was a clear and consistent concept that offered the precision associated with tool and tie making. And even in its base configuration it featured a 15,000 rpm spindle, an HSK-63 arbor, ICF pressures up to 30 bar and a 24-position tool changer, which is what we needed to implement our application." And, above all, HURCO provided a "1 A" presentation featuring a complete concept embracing service, sparepart supplies, and high levels of machine availability. "Right from the start, they had no trouble in delivering and setting up ten machines in just seven months."
A neat proposition
Fuchshofer then proceeded to purchase all of his H7 and H10 machines in the standard version. "We even removed the standard chip conveyor, because in our line of work all we usually produce is dust. "But these machines are very well protected against that," he notes. "What is even more important than the design details:
The standard models have the precision to meet our challenging demands. Every test that we conducted produced figures in perfect harmony with the promised performance," underscores Fuchshofer, who has "rarely had such a positive surprise as I did then." For a small machine, the bridge-type design is a neat proposition. "Because the dust is a challenge everywhere we have motion, which means that short travel paths offer benefits when it comes to keeping things clean. And then when it's possible to set up and install a delivered machine within a single day, that's a neat proposition."
"Right from the start, it was no problem to deliver and set up ten machines in seven months. And then when it's possible to set up and install a delivered machine within a single day, that's a neat proposition."
Hannes Fuchshofer, owner of Fuchshofer Präzisionstechnik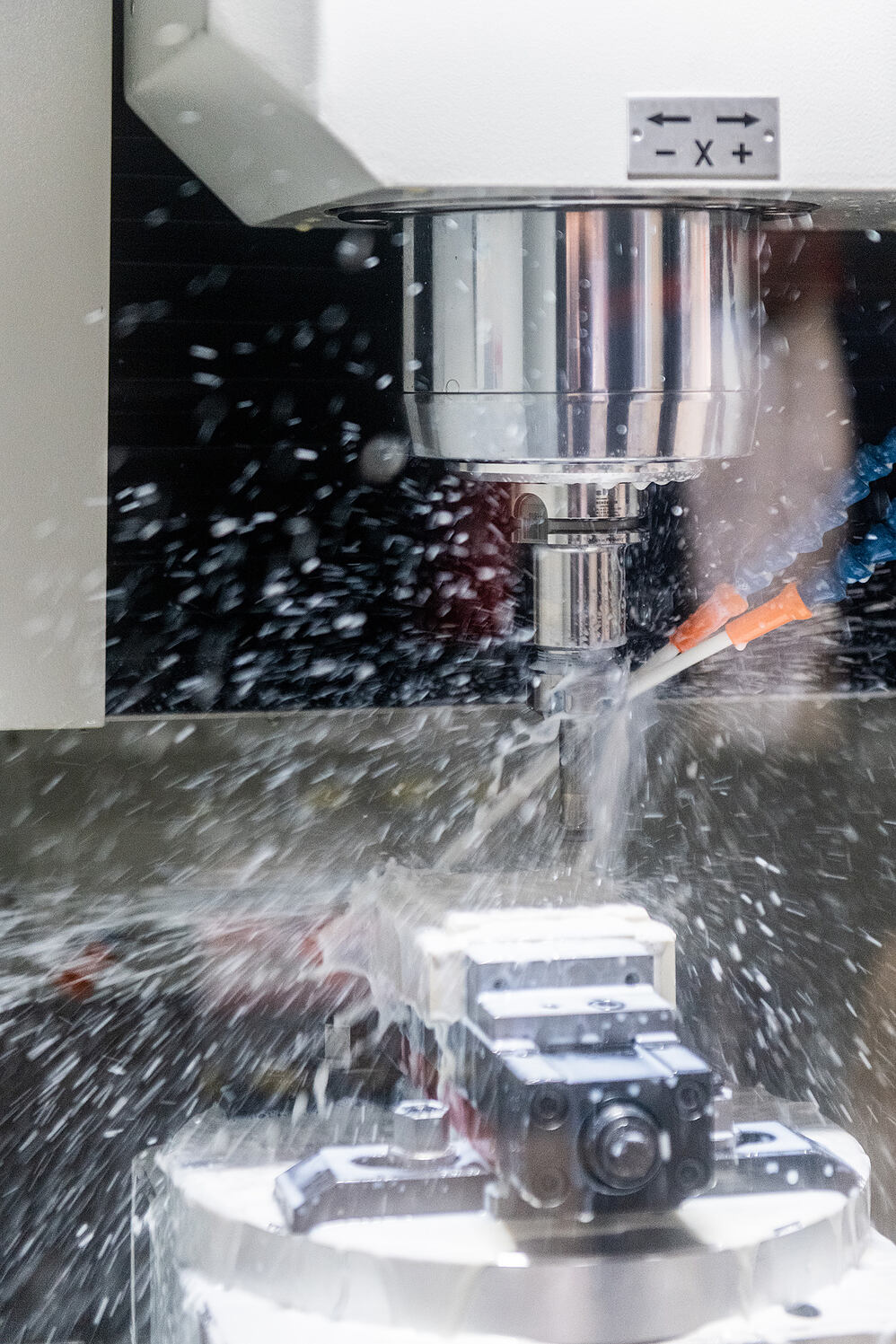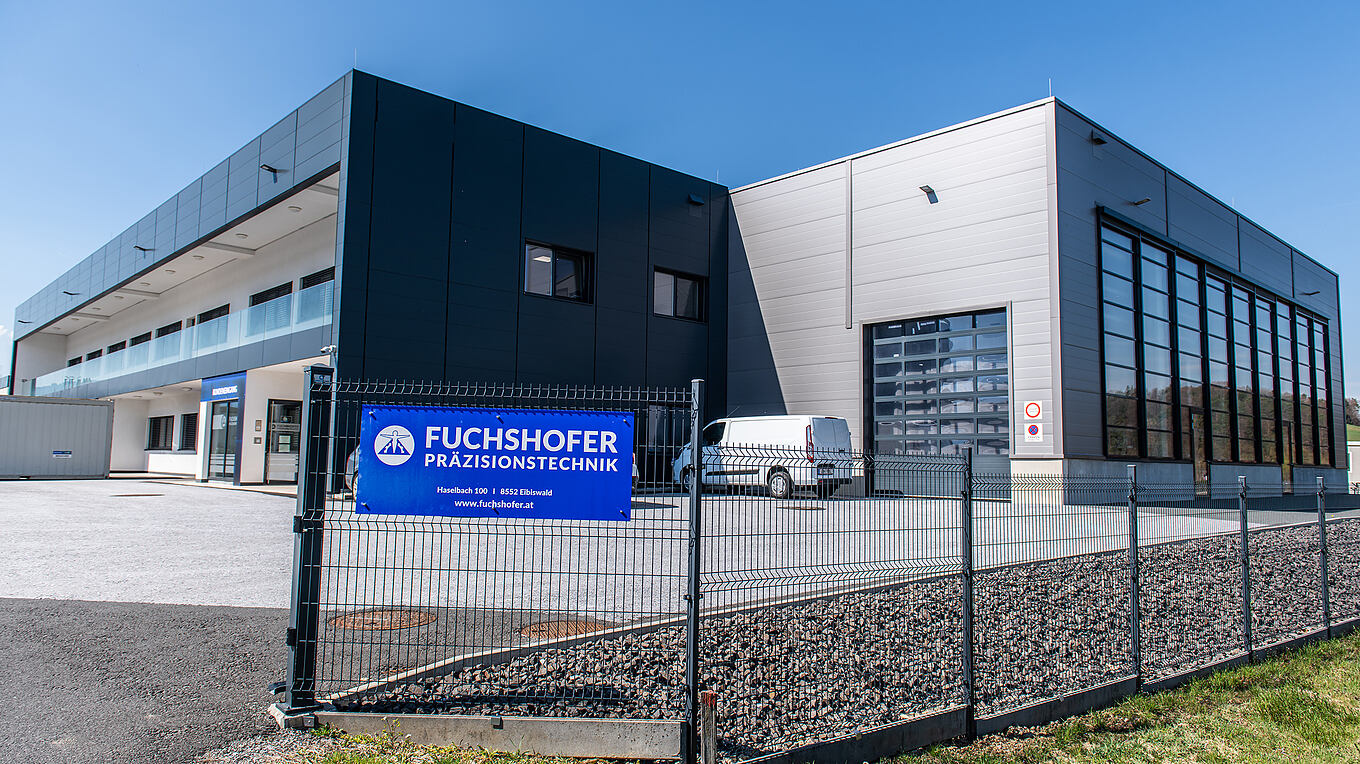 Ten machines with a single objective
Precision only counts with reliability
Fuchshofer was already familiar with the Heidenhain control system used to operate the bridge-type machining centers for years thanks to the FF. The metal-cutting program is loaded with CAM files, and the control system serves as the implementation organ. There are also no limits on applying all previously generated programs on the TAKUMIs.
"Here we are talking about more than 1,000 programs that we have joined together." Soon this concept will be used to organize the activities of all ten machines and design manufacturing processes extending to well over 300 hours per part. "Here the priority is on 100 % accuracy in series production – and that is only possible with reliability and precision," is how this owner sums it up. "You need to consider that we reach continuous machining periods of 19 hours a day, where thermal expansion in the parts can start to pose a problem. Even for us, these kinds of machining times are new territory, but we are moving into it with confidence thanks to the partner providing our machines. Another factor is the fight against faults: Each fault must be analyzed and each error source eradicated, repeating them is not an option. This is what makes the concept so attractive for us: We know the control systems from one end to the other, and it is though the machines had been specially designed for just this assignment." Fuchshofer is convinced: Within a year, he will have a comprehensive analysis database concentrating on the TAKUMIs' performance parameters to confirm these expectations.
The gears are meshing nicely
Hannes Fuchshofer is satisfied with the delivery situation: "The transport company's notice, the set-up schedule, the documentation...all of the gears mesh with perfect precision. In the end, we had ten machines in seven months. That's a convincing achievement."
An assessment that extends to include the close cooperation with HURCO and their persuasive service concept. Once again, his focus is fixed on creating an optimal product range and assortment of key sectors for his company. "For us, the ideal customer is someone who requests a prototype, then goes on to order five or ten parts, with potential for subsequent limited-series production – always with a requirement brief including immense precision and complexity, consistently specifying demanding materials. This is where we come full circle to return to the bridge-type machining centers. Because we can only implement this assignment with machines that harmonize perfectly with our own operations. Planned job orders of the kind that run for 300 hours and more on our TAKUMIs form our economic foundation."